ICES and specifically the EIFAC give advice to the European Commission on an annual basis. There key message has been constant for a decade or so advising that all human impacts should be reduced to as close to zero as possible. They give this advice on a precautionary basis because accurate measurement of eel population is very difficult and population dynamics are unpredictable given the eels extraordinary life cycle and the dispersed population, it is one panmetic stock for the whole of Europe and North Africa.
The exact words are
ICES advises that when the precautionary approach is applied for European eel, all anthropogenic mortality (e.g. recreational and commercial fishing on all stages, hydropower, pumping stations, and pollution) affecting production and escapement of silver eels should be reduced to – or kept as close to – zero as possible.
In the absence of good information the glass eel arrival or recruitment numbers have been used as a proxy indicator for the whole population and is reported in 2015.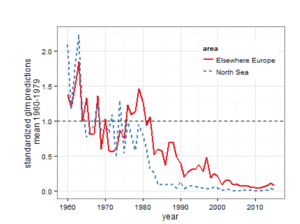 It is well worth reading in detail the ICES reports their latest are on this link
The ICES scientific advice was used as part of the process leading to the creation of the Eel Regulation
Council Regulation (EC)  1100 / 2007 of the 18th September 2007
Establishing measures for the recovery of the stock of European Eels
The eel is fortunate to enjoy this special status of having its own Regulation that is binding on member states. The key themes can be quickly identified from the Articles contained within the Regulation.
* •    Article 1 " The Regulation establishes a framework for the protection and sustainable use of the stock"
* •    Article 2 is about Member states establishing Eel Management Plans (EMPs) "whose objectives shall be to reduce anthropogenic mortalities so as to permit with high probability the escapement to the sea of at least 40% of the silver eel biomass relative to the best estimate of escapement that would have existed if noe anthropogenic inflences has impacted on the stock"
* •    Article 2 continues by identifying possible measures that may be included in the EMP
* •    Reducing Commercial Fishing effort
* •    Restricting recreational fishing
* •    Restocking measures
* •    Structural measures to make rivers passable and improve river habitats together with other environmental measures
* •    Transportation of silver eels from inland waters to waters which they can escape freely to the Sargasso Sea
* •    Combatting predators
* •    Temporary switching off hydro-electric turbines
* •    Measures related to aquaculture
* •    Article 7 Measures concerning restocking
* •    Where Glass eel fishing is permitted the member state shall reserve at least 60% for restocking
* •    The level of 60% to be achieved by 31 July 2013
* •    To ensure the 60% are used in restocking programs member states must establish appropriate reporting systems
* •    Article 9 Concerns Reporting and Evaluation
* •    Member states report to the Commission every 3 years
* •    The Commission shall propose any appropriate measure to achieve recovery decided by majority voting of the Council